The plastic surgeon Maria Skolarikou is born and raised in Athens. Her priority in every case is the person and the high level provision of medical care with reliability and respect to each patient. As a lover of natural beauty, she proposes the latest techniques and methods that can highlight and enrich it according to the existing needs. However, breast reconstruction after mastectomy or the treatment of wounds, burns, as well as various forms of skin cancer, are a large part of her area of specialisation.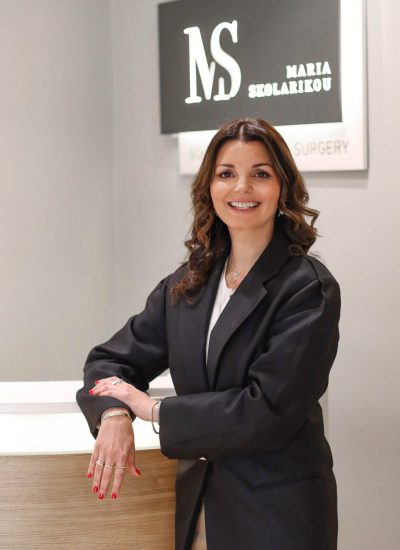 Maria Skolarikou is a graduate of the Medical School of Athens (National and Kapodistrian University of Athens).
Specialization in General Surgery for 2 years, Naval Hospital of Athens.
Degree in Plastic Surgery, Oncology Hospital "G. Gennimatas ", Athens.
Possession of the European Diploma in Plastic Surgery, EBOPRAS after examinations and recognized member Fellow (FEBOPRAS) – Recognized member of the Hellenic Society of Plastic Aesthetic and Reconstructive Surgery.
Curator B 'in the department of plastic and reconstructive surgery, St. Savvas Hospital
Specialization in cosmetic facial surgery, at the pan-European recognized La Clinic center in Switzerland, as part of a Fellowship by the British Association of Plastic Aesthetics and Reconstructive Surgery (BAPRAS).
Recognized member of the Specialist Registry of plastic surgery at the British Medical Association GMC.
Royal Preston Hospital, Lancashire, United Kingdom.
Aachen University Hospital, Germany.
Karolinska University Hospital, Stockholm Sweden.
La Clinic, Switzerland.
Μember of
MEDICAL ASSOCIATIONS

Regular member of the Hellenic Society of Plastic Surgery.

Member of the Medical Association of Athens.

Member of the Medical Association of Great Britain (GMC) as a specialist in Plastic Surgery.

Fellow of the English Society of Plastic and Reconstructive Surgery (BAPRAS).
In modern plastic surgery, time is our ally and not our enemy.
We apply the most modern and pioneering techniques in order to prevent, improve and correct the signs of time, without fighting it pointlessly!
For Plastic Surgeon Maria Skolarikou, the "creation" of beauty is an art, based on the harmony of the uniqueness of every person who chooses to age with grace!
Educational seminar in Microsurgery training.
Advanced level microsurgery training seminars in Greece and Great Britain.
Flap training seminars for breast reconstruction in viable tissues, in Greece and Great Britain.
Masterclass facelift in France, Switzerland and Great Britain
Advanced workshops in cadavers for head and neck cancer in Great Britain
Advanced fillers and neurotoxin application training in USA and UK
ATLS (Advanced trauma and life support, recognized by the American College of Surgeons)
BLS (basic life support course)