Dermapen 4 is the strongest ally against skin imperfections and damage, utilizing the beneficial properties of microneedling. This highly effective non-invasive resurfacing treatment is performed via a pen-like device that causes controlled micro-traumas to the skin. Through these pin-sized micro-injuries, skin cells are activated to produce new collagen and elastin. In order to enhance the action of this miraculous treatment, the Dermapen company has created the line of DP Pharmaceuticals medical grade pharmaceutical cosmetics products, specially formulated to offer each person the best possible results after the Dermapen 4 treatment.
The DP Pharmaceuticals line of pharmaceutical cosmetics has been created to maintain and enhance the results of the Dermapen 4 microneedling treatment. Indicated for use before, during and after microneedling treatment, to achieve optimal results. With the use of the specific products, the treatment continues from home, offering each person the desired results. This series has been formed based on 2 central axes, the scientific research on skin issues and the high concentration of powerful active ingredients.
DP Pharmaceuticals pharmaceutical cosmetics includes a range of specialized products for home use that restore and enhance skin's youthfulness. Each product features active ingredients with impressive efficacy for a wide range of skin concerns, formulated to cover every step of your daily skincare routine. The miraculous ingredients they contain are carefully designed to defy the signs of time, to renew and replenish the needs of every skin.
DP Pharmaceuticals pharmaceutical cosmetics products include carefully formulated peptide contents that stimulate collagen production, vitamin complex such as vitamin A, B, C, E and powerful antioxidants. These ingredients work by going beyond the surface of the skin and penetrating deep into the skin, ideal for all skin types.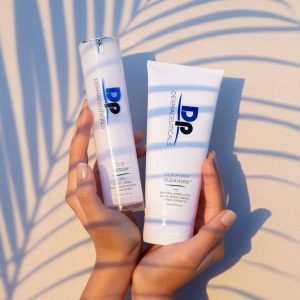 The ingredient that makes the difference in these products is the patented HylaFuse complex, a carefully formulated Hyaluronic Acid (HA) composition. This specific complex contains not one, but three molecular sizes of Hyaluronic Acid, specially formulated to penetrate both the surface and the lower layers of the skin. Hyaluronic Acid is the gold standard skin moisturizing ingredient, which is naturally present in the body. However, over time its quantity in the skin progressively decreases, contributing to the formation of fine lines and loss of elasticity. This issue is to be corrected by the Dermapen company with DP Pharmaceuticals specialized pharmaceutical cosmetics products, replenishing the skin's lost content of hyaluronic acid, while also including a number of other active ingredients.
Each product is designed to include combinations of active ingredients that aim to address each skin issue, while combining in complete harmony, complementing each other's action. They are used in cases of acne and scars, pigmentation, fine lines and wrinkles and a host of other skin issues.
The range includes skin cleansing products, which work by effectively removing make-up and impurities, while removing dead cells and preparing the skin for the rest of the care steps. Then, the specialized care serums are applied according to the needs of each skin, while the application of targeted correctives follows. These correctors treat acne marks, scars and pigmentation spots in a unique way. The collection of DP Pharmaceuticals products could not be missing a series of moisturizing creams for every skin type, but also a revolutionary product with an SPF30 protection index and simultaneous coverage like makeup. This product simultaneously offers protection and correction of any imperfections, the application of which can be carried out immediately after the Dermapen 4 microneedling treatment where the products have maximum penetration.
These products, due to their miraculous effectiveness, can be combined exceptionally well with a number of other non-invasive treatments, maintaining and enhancing their action. Mesotherapy, neurotoxin therapy and hyaluronic acid fillers are ideal examples of combination. Give your skin the most precious gift with DP Pharmaceuticals' line of miracle pharmaco-cosmetics, preferred by thousands of clinics worldwide.