The next level in facial cleansing, is Aquafacial!
WHAT IS IT?
Mechanical facial cleansing with simultaneous suction and injection of special serums according to the needs of each person!
WHY IS AQUAFACIAL CLEANSING DIFFERENT?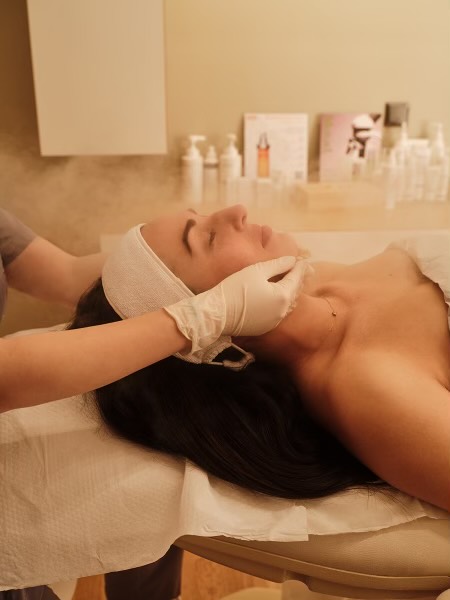 It has special heads that, due to their spiral shape and negative pressure, allows us to exfoliate, remove sebum and moisturize the skin in a completely painless way. Achieving beautiful, glowing skin is now possible with just one treatment! Aquafacial is the ideal solution for men and women who wish to renew their appearance with a non-invasive yet powerful treatment. Plastic Surgeon Dr. Maria Skolarikou carefully applies this treatment, for an impressive result!
YOU ARE JUST 3 STEPS AWAY IN A FEW MINUTES FROM THE PERFECT SKIN!
STEP 1: Cleanse and exfoliate for soft, fresh skin
STEP 2: Drainage of sebum, which is produced by the sebaceous glands, and cleansing of pores thanks to the painless mechanical suction and simultaneous hydration.
STEP 3: Infusion of special SERUM that provides antioxidant shine-nourishment.
FREQUENCY: Totally safe procedure for impressive and lasting results that can be repeated every 4-6 weeks.
FOR EVERY SKIN TYPE!
ONLY WE PROVIDE THE MAGICAL COMBINATION OF AQUAFACIAL WITH UNIQUE SKINCEUTICALS PROTOCOLS, THE NO. 1 LINE OF PHARMACEUTICALS IN EUROPE AND AMERICA
Plastic Surgeon Μ. Skolarikou combines Aquafacial with injectable treatments for even more enhanced results that last, according to the personalized protocols she applies, she therefore combines Aquafacial with autologous mesotherapy, Skinboosters, injectable hyaluronic acid and neurotoxin treatment.