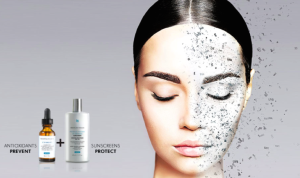 Find now on our site the most specialized line of Skinceuticals pharmaceuticals cosmetics, adapted to every skin type & for every age!!!!
The philosophy of Skinceuticals products is based on the threefold principle of PREVENT, PROTECT CORRECT, against exogenous and endogenous factors of skin aging and are aimed at any type of skin, oily, dry, with spots – pigmentation or acne.
At the same time, they prolong and enhance the results of the clinic's beauty protocols, i.e. all the injectable treatments, fractional laser CO2 and other invasive methods we apply, ensuring the protection and care of your skin.
Learn below how to apply skin care products for longer lasting results!!!
Always start by applying the thinnest products (serum, antioxidants) and then the thicker ones for better absorption and protection.
Morning routine-Steps:
Prevent: Serums or liquids (antioxidant serum , CeFerulic ή Phloretin CF)
Correct: Treatment creams (Triple Lipid cream, Metacell Renewal, or Age interrupter)
Protect: Moisturiser/Hydration ( Hydrating B5, HA intensifier)
Protect: Sunscreen (SHEER MINERAL UV DEFENSE SPF 50)
Make up
Night Routine-Steps
Make up removal
Serums or liquids (Hydrating B5, HA intensifier)
Treatment cream (retinol, if necessary)
Moisturizer (Triple Lipid cream, Metacell Renewal, or Age interrupter)
Key Points to take
In the morning, sun protection is necessary as well as protecting the skin from environmental factors using antioxidant creams or serums
In the evening, the essential element of the products you use should aim to regenerate and regenerate your skin, such as the action of strong anti-aging agents with retinol or glycolic acid and natural moisturizing serums and regeneration creams, which hydrate and give radiance the next morning on your skin!